No Shooting in This Area
Renaud Auguste-Dormeuil, Taysir Batniji, Éric Baudelaire, Philippe Bazin, Neal Beggs, Lynne Cohen, John Cornu, Raphaël Dallaporta, Ian Hamilton Finlay et Martyn Greenhalgh, Nino Laisné, Gianni Motti, Sylvie Réno, Michael Scoggins, Dan Shipsides, Shipsides & Beggs Projects



Exposition
20 avril > 25 juin 2016 — Le Bel ordinaire, Billère

Commissariat : Émilie Flory



No Shooting in this Area, qui emprunte son titre à une œuvre de Lee Friedlander, aborde la question de la guerre dans une acception très large, et ne se concentre ni sur une période historique particulière ni sur une zone géographique spécifique.


C'est en faisant un pas de côté que le propos de l'exposition se déploie ; en s'intéressant à la manière dont les artistes d'aujourd'hui parlent de violence, de pouvoirs, de guerre ou de conflit sans en montrer frontalement des images, et en choisissant des contrepoints évocateurs plus proches de la poésie, de l'imaginaire ou de l'humour.


Est–il possible de parler de violence sans la montrer ? Peut-on revenir sur l'histoire sans la narrer ? Comment l'art et les artistes contemporains permettent-ils de poser un autre regard sur les conflits passés et actuels ? De quelle manière parviennent-ils à témoigner sans tomber dans un discours politique ou un jugement ?


Les œuvres choisies mêlent les disciplines artistiques et les modes de représentation. Elles introduisent une distance entre la gravité du sujet traité et la forme qu'elles prennent. C'est à cet écart précisément que les commissaires se sont intéressées ; ou comment l'artiste propose une alternative aux discours et aux représentations habituelles de la guerre et de ses conséquences.

EN
No Shooting in this Area, which is named after a photo by Lee Friedlander approaches the topic of war in a very broad sense, and concentrates neither on one particular historical period nor on a specific geographical zone.


A change of perspective is neccessary for the purpose of the exhibition to unfold - by focussing on how the contemporary artists express the idea of violence, power, war or conflict rather than showing explicit images, and by choosing evocative counterpoints closer to poetry, imaginary or humour.


Is it possible to speak about violence without showing it ? Can we reconsider History without narrating it ? How can art and contemporary artists shed a new light on past and current conflicts ? How do they manage to testify without falling into political speeches, or emitting a judgement ?
Selected artworks mix the artistic disciplines and mediums of representation. They introduce a distance between the seriousness of the topic and the form they take. It's precisely this distance that the curators found interesting ; or how the artist offers an alternative to the speeches and the usual representations of war and its consequences.

En partenariat avec Belfast School of Art / Research Institute Art and Design, le Centre des livres d'artistes (Saint-Yrieix-la-Perche), le CNAP, l'École nationale supérieure d'art de Bourges, l'ÉSA des Pyrénées, les Frac Aquitaine et Languedoc-Roussillon, le FRAC-Artothèque du Limousin, les galeries Adler & Co. (San Francisco), Éric Dupont (Paris), In Situ-Fabienne Leclerc (Paris), Juana de Aizpuru (Madrid) et avec la complicité de Magali Gentet, André Siegel et les galeries Aliceday (Bruxelles) et Anne de Villepoix (Paris).
Sites des artistes / The Artists' Websites
Taysir Batniji
Éric Baudelaire
Philippe Bazin
Lynne Cohen
John Cornu
Raphaël Dallaporta
Nino Laisné
Sylvie Réno
Dan Shipsides
Vue de l'exposition (incluse le vignette de l'index) © Philippe Costes pour Le Bel ordinaire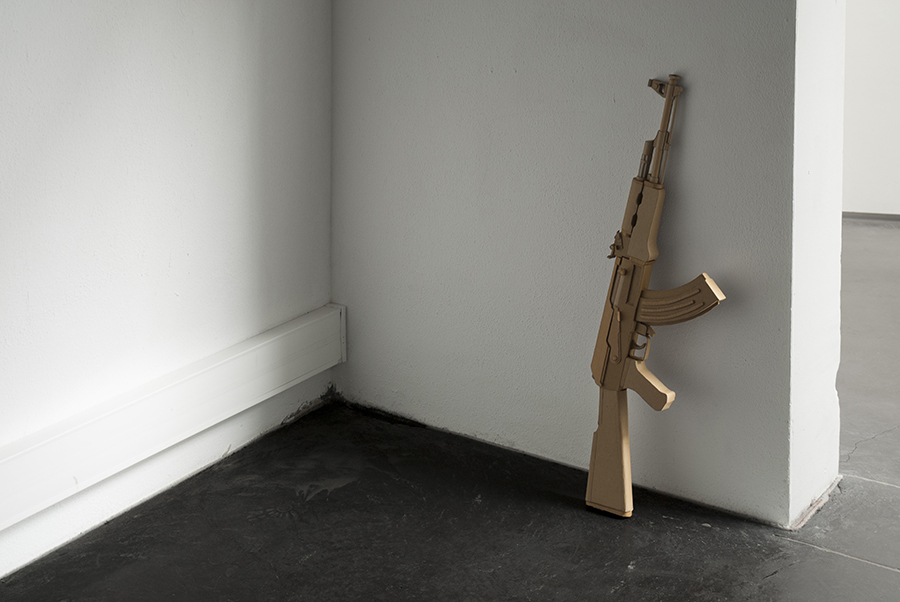 Vues d'exposition © Nino Laisné