Un point rouge dans la nuit
[A Red Dot in the Night]
Carlos Aires, Irma Álvarez-Laviada, Nicolás Combarro, Julie Kieffer,
Sonia Navarro, Belén Rodríguez, Anna Safiatou Touré, Oriol Vilanova
Exhibition
December 14, 2022 > March 18, 2023 - Le Bel Ordinaire, espace d'art contemporain, Billère
Curator : Émilie Flory
Assistant : Melina Nuñez Larrañaga
Tuesday December 13, 2022, Opening from 7 pm, in presence of the artists
Monday, December 12, 2022 from 6 to 7 pm, Meeting with the artists and Émilie Flory
Auditorium of the ÉSAD, École supérieure d'art et de design des Pyrénées - 2, rue Mathieu Lalanne in Pau.
FR
EN
ES
An exhibition that brings together the work of a core group of Spanish artists1, Un point rouge dans la nuit [A Red Dot in the Night] speaks of the other, of the human adelph who lives or survives, transmits his knowledge, his rituals, his cults, he is also the one who crosses the border at the risk of his life, as he has always done for centuries, he is the one who populates the world, who enriches us. The invited artists think about their world, commit themselves, point out what is dysfunctional, speak of the colonizing past, of dictatorships, evoke forgotten communities, unearth what history wants to silt up. They show what we no longer see, what we must learn to look at, to preserve...
The works can be read from the point of view of the political, the social, the human, the acts that remain to be done and what we must not renounce. It is about borders, roots, history and revolts, and also about the extraordinary. I wanted other nationalities to gravitate around the Spanish artists initially invited, because before the world pandemic and the war in Ukraine we had almost forgotten the violence of a border that closes.

I borrow the title from Bertrand Belin2, this red dot in the night is the glimmer of a presence in the dark, the certainty that there is someone in the distance, it is perhaps a bear, a mirage, a miracle. It is the artists, the friends, the thinkers, the creators, those who are necessary, who open the minds. Un point rouge dans la nuit is also hope and desire that come back.

- Émilie Flory
Paris, June 2022

1. Art scene that I was able to discover during the INTERSECTION curatorial research residency in 2017. Initiated by the CAPC Museum of Contemporary Art in Bordeaux, Acción cultural española and La Casa Encendida, in partnership with La Casa de Velázquez and L'institut français in Madrid. Then, thanks to the program of curatorial invitations of Open Studio Madrid and FelipaManuela in 2022.
2. Verse by Bertrand Belin in the song De corps et d'esprit, in Persona, 2019, Five 7, Wargram Music
Le Bel Ordinaire, espace d'art contemporain
Anciens abattoirs
Allée Montesquieu
64140 Billère
T +33 (0)5 59 72 25 85
Free entrance. Open to all from Wednesday to Saturday from 3 to 7 pm, including holidays (except Dec. 25
th
and Jan. 1
st
).
Exhibition produced by the Bel Ordinaire, in partnership with Sabrina Amarani Gallery (Madrid), Galería Alarcón Criado (Sevilla), Galería Luis Adelantado (València), Mala Fama estudios and Naveoporto (la Casa!!). It has been thought in connection with La Chapelle Saint-Jacques contemporary art center which also invites me to curate in March 2023. Some artists of the Spanish scene will be part of the two exhibitions in Billère and Saint-Gaudens, along the Pyrenean line.
This project was made possible thanks to the artists, the BO team and Melina (¡gran aprendiz!). Thanks to Magalie Meunier, David De Beyter and ENSAV La Cambre (Brussels). And finally, a big thank you to Tania Pardo, Marta Rincón from Accíon cultural española, María Eugenia Álvarez from Open Studio Madrid and Andrea Pacheco from FelipaManuela (Madrid) who open the door to artists' studios in Spain since 2017.
The Artist's Websites

Irma Álvarez-Laviada
Nicolás Combarro
Julie Kieffer
Belén Rodríguez
Nave Oporto
Mala Fama Estudios
Oriol Vilanova
Nicolás Combarro,
ST (Casturera II),
2022
Resin and cement volume, 40 x 40 x 30cm approximately © the artist
Thumbnail :
Julie Kieffer,
Étendards 131222
, 2016-2022
Fabrics, wooden sticks. Variable dimensions © the artist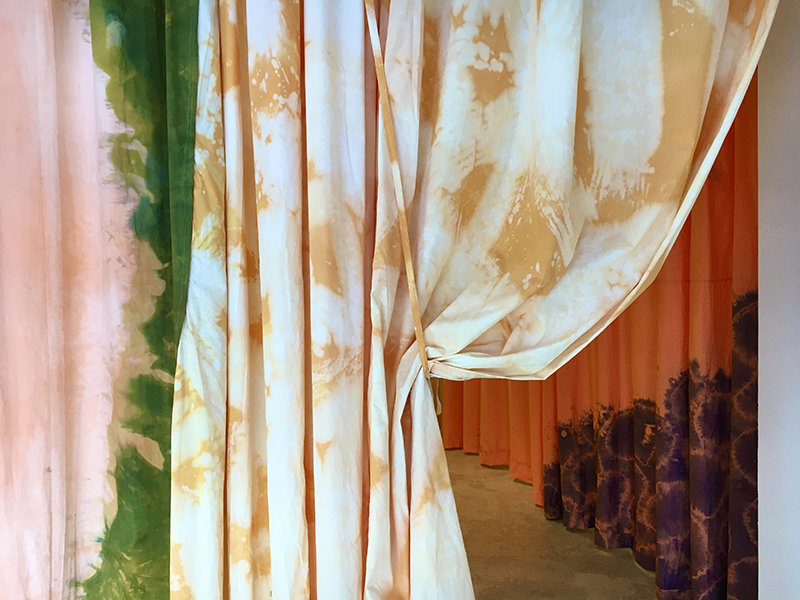 Belén Rodríguez,
Yo espeso los colores
, 2021
Cotton poplin, bleached and dyed with ecological dyes. 340 x 600 cm. © the artist, courtesy of Galería Alarcón Criado (Seville)
Anna Safiatou Touré,
Nénima
, 2020-2022. Video 11',color sound © the artist
Carlos Aires,
Ne me quitte pas
, 2019 from the serie
Songs for Times of Crisis
. Congo banknote, 141.5 x 121.5 x 9 cm, Ed. 1/3 Archival cotton photo paper, gold pins, passepartout, gold leaf covered wooden frame, anti-glare museum glass. © the artist, courtesy Sabrina Amarani Gallery (Madrid).